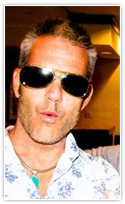 Jonathan Mizel (the maker of Traffic Evolution) used to be the guru to the gurus in the internet marketing world. Cutting his teeth on bulletin boards (BBS) – before the internet really took off – he's been a pioneer from the word 'go'. He even started one of the first internet marketing coaching clubs where some of the smartest online marketers would attended including John Reese, Marlon Sanders and Glenn Livingston.
But where did he go?
Jonathan has pretty much been off the guru circuit for the better part of 4 years. You see, he's one of those guys who is in the trenches taking action – not just marketing internet marketing products to the internet marketing crowd. He sells real products, to real people, in the real world – working with Fortune 500 companies like Microsoft, American Express, Intel and Disney.
What's he been doing?
Apart from being a recluse in Maui Hawaii, Jonathan's been quietly developing his system for media buying. Most people haven't even heard of this advertising industry but it serves billions of banner ads, popups and contextual ads every day (and it has nothing to do with Google, Bing or Yahoo).
When I heard what he was doing, I tried over the course of 3-4 months to line up a call but he's tough to catch.

Finally I got him locked down and recorded one of my best calls yet – Jonathan himself commented (after the call) that I had him talking about stuff he's never shared before. Heck, this call will most likely be included in his new course Traffic Evolution.
But enough rambeling  from me, click here to download the call for nothing 🙂 It's the best Traffic Evolution Review around.
Your SEO coach,
David Jenyns
Ps. If you liked this interview, be sure to follow me on twitter – click here. I'll keep you up to date with my all free interviews.
PPs. Be sure to check out Jonathan's new course Traffic Evolution and post your review below.