Many have been anxiously waiting for me to release the "Ultimate Trading Systems 2.0" and I was hoping to have it out by now. It's now looking like it will be released some time late next month. Thanks to everyone for their patience. It will be well worth the wait.
I'm not going to rush it. This project is extremely important to me and I'm only going to release it when it's 100% ready. So everyone will just have to continue being patient. And, yes, I know it's been well over A YEAR since I originally announced that I was working on this. I'm dying to 'let the cat out of the bag' (even some of it) so here's a spy photo of what I'm working on: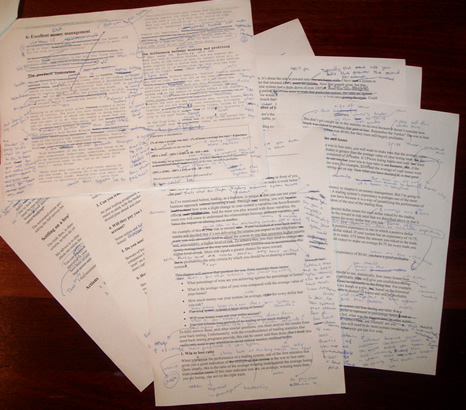 As you can see there's some extensive rewriting going on here 🙂 In fact, I've almost completely rewritten this book from the ground up.
I originally wrote the Ultimate Trading Systems almost 4 years ago and as you can imagine my trading methods have evolved significantly. I've made some amazing new breakthroughs I'm exited to share with you.
But here's the best news…
I really want your feedback because it's my goal to make this book the definitive guide to trading system design. If you're happy to help I'm going to give you a free copy.
I'll shoot you an email when I'm ready to go.
That's it for now… NOW GET BACK TO WORK!
Your business/trading philosopher,
David Jenyns