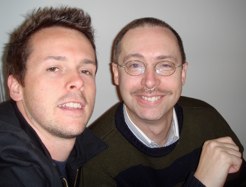 Robert Somerville (affectionately known as 'Guru Bob') is a man rarely seen in the spot light and, although he's Ed Dale's right hand man in the 'lab', he's very much an expert in his own right. In fact, Robert's the co-creator, strategist and head of research and development for the Thirty Day Challenge (30DC).
Haven't heard of the 30DC? Have you been hiding under a rock?
In a nutshell… The Thirty Day Challenge is about making your first $1 online. For a full 30 days you're shown exactly how to start your own Internet business and generate your first income online without spending a dime. It's a great place to start your internet marketing career – that is to say, I highly recommend it!
This year around 75,000 internet marketer's (both newbies and experts alike) took part in the challenge – clearly a huge success! Suffice to say, Rob's one smart cookie.
Having known Robert for some time I was excited to ask him all the 'hard' questions on SEO.  You can listen into the call, it's free to download, no optin required. Click here to download it now.
Your SEO coach,
David Jenyns
Ps. If you'd to see who else I'm interviewing please follow me on twitter.