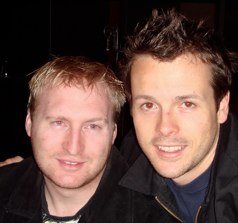 Marc Linday and his partner Dan Turner from Article Market Automation (AMA) are friends from way back when…
One of my fondest memories of those boys is us both duelling it out at Ed Dale's Over The Edge conference as to who was the #1 internet marketer in the world. After much debate, if my memory serves me correctly, they both agreed it was me 😉
But seriously, as much as it pains me to say it, Marc probably is probably in my top 3 smartest SEOers of all time… and to top it off, he's a top bloke too. Together with Dan they do business on their own terms, not getting caught up in the 'guru' hype.
But enough about how great they are… I actually wanted to share with you one of our many 'quick 5 minute chats', that often turn into 3 hour marathons. Click here to download the call.
And be sure to post your comments below.
Your SEO coach,
David Jenyns
Ps. Click here to follow me on twitter to keep up to do with all my free interviews.
PPS. If you want to check out the Article Automation Service click here and be sure to give us your article marketing automation review below.