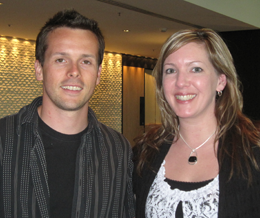 In the lead up to Ed Dale's event (this weekend) I've been able to line up a few interviews with those part of the expert line up. Today I have the final piece in the puzzle… Lynn Terry (www.clicknewz.com).
Lynn Terry stands at the forefront when it comes to the highly competitive battleground of affiliate marketing. What I like most about Lynn is her varied skill set – she's been successful on so many levels from information sites to big commercial sites. Lynn's definitely no one trick pony.
Now, with 12 years internet marketing experience, Lynn's method's have been well and truly honed. In this interview I drill down into the exact system she uses today – the deadly combination of affiliate marketing and SEO. Obviously, if you'd like to find out more, you can check her website ClickNewz – you'll find loads of info on the latest eBiz trends, marketing strategies, unique case studies, creative ideas & personal reviews (it's very cool).

Anyway, enough chat… click here to download the interview in MP3 format and I hope to see you at the conference this weekend – be sure to say "hi".
Your SEO coach,
David Jenyns
Ps. Like what you heard? Follow me on twitter and I'll keep you up to date will more free interviews.
PPs. Want to check out the new product Lynn mentioned in the interview? Click here.

It's no secret to most of you that without inbound links, your sites are invisible. They may as well not even exist at all. Without those backlinks, You get NO traffic, NO search engine rankings, NO sales and NO Profits.
It's time you did something about this backlink thing. It's a brand new year and you've resolved to forge ahead on your road to success. Take action Now and make this your biggest year ever! Click here to find out more.