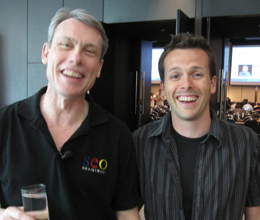 Leslie Rohde (www.leslierohde.com) is to SEO what Thomas Edison was to the light bulb. You may or may not have heard of him, but if you know SEO, you know his work. Here's what I mean…
One of the many factors that are important in ranking at Google is the use of keyword rich links and that is a "secret" Leslie broke in the Spring 2002. Prior to that point, "link popularity" — the simple counting of links — was state-of-the-art. It was not until he realised a piece of software called OptiLink that "Link Reputation" — the analysis of the link text — was born. Fast forward a few years and now even the most basic course in SEO teaches the importance of link text.
But that's not all… a year later Leslie invented a process he called "Dynamic Linking" – a way to control the distribution of PageRank within a website. The SEO community has since named this technique "PageRank Sculpting" and it is widely taught and practiced by advanced SEOs everywhere.
Looking back, these two techniques, Link Reputation and PageRank Sculpting, are the mainstay of ranking improvement at Google and are the foundation of much of SEO practice. Leslie truly is the grand master of SEO.
Personally I've been following his work for the better part of 6 years… first introduced through some consulting work with Jeff Johnson, I soon realised this is a guy you need to listen to. Just a few days ago I was lucky enough to spend some time with the man himself and I recorded the call for your benefit.

We talked about all things SEO from endless content to personalised search – be warned though, this is some pretty high level SEO.
Click here to download the call… and be sure to post a comment!
Your SEO coach,
David Jenyns
Ps. Like what you heard? Follow me on twitter and I'll keep you up to date will more free interviews.
PPs. Want to see what Leslie Rohde is up to? Either come and see him in Melbourne for Ed Dale's Home Coming 2 seminar or review his SEO BrainTrust below:

The BrainTrust is about the entire game of search marketing – from keyword strategy to link building, from Pay-Per-Click to Analytics, Conversion, and Testing… everything that can help you get better rankings, more traffic, and more PROFIT from your business.