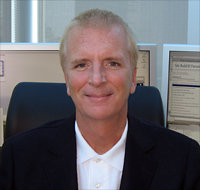 Today I really do have quite a treat for you… I have lined up an interview that is as rare as hen's teeth. An interview with my mentor Ken Evoy.
Now what makes it so rare? Well, I can count the number of interviews Ken has done over the years on one hand. Heck he's even been asked to keynote many seminars, being offered as much as $20,000 for one presentation… and you know what? He always turns them down.
Who is this guy?!
Ken Evoy is what you'd consider one of the God Fathers of online marketing. He's been there from the start and always on the bleeding edge. His original manual 'Make Your Site Sell' (MYSS), at the time of its publication, was so ahead of anything else out there it was ridiculous – even today, 8+ years on, it's a great read filled with loads of evergreen information. Some of the cutting edge stuff of 1999 has obviously become "out of date" but, if you read it, you'll find much of the information is still relevant today… and it's free!
Perhaps one of Ken's most well known accomplishments is his Site Build It (SBI) system. This program has produced more successful online businesses than anything else online! In fact, SBI sites have been featured on Oprah, BBC, MSNBC and in The New York Times, USA Today and Chicago Tribune.
Now before I start to come across like some SiteSell fanboy (and I am), I want you to understand where I'm coming from.
I first started using SBI back in 2003 (shortly after reading MYSS in 2002) and it's now developed into the backbone of my most successful website www.meta-formula.com.  This website kicks some serious butt in my niche. I suppose that makes me a little biased but, for me, the proof is in the pudding.

So how did I land the interview of the decade? You'll have to download the interview to find out. It's free, no optin required.
And I would very much appreciate it if you're on twitter, twitter it. If you're on dig, dig it. If you're on Del.icio.us, bookmark it. In short, if you can pass it on, that'd be great.
Your SEO Coach,
David Jenyns
Ps. If you liked this interview, be sure to follow me on twitter – click here. I'll keep you up to date with my all free interviews.
PPs. Thinking about getting site build it? Check out my site build it review here.