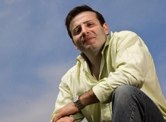 Click here to download the interview.
Have you ever had the feeling that you've arrived late to the party? Maybe you've felt like all the good ideas have been taken? Maybe next time you'll be there early enough to grab some of the "easy money"? Rest assured you're in good company.
When Yanik Silver first started that's how he felt. Today he's considered by many to be a pioneer in the internet marketing industry. Teaching all skill levels from internet marketing newbie to hardened IM experts, Yanik now has more products than you can poke a stick at.
And, the guy who once felt like a late starter, earns more money than most would ever need and lives an enviable lifestyle. If you want to see what I mean just check out his blog:  www.internetlifestyle.com
But before you check out his website… I wanted to share with you a recent interview I arranged with the man himself. Thanks goes to Chasity Jenkins, Yanik's right hand woman, who helped ensure went smoothly and who also shared a thing or two about Yanik even before the interview.
I think the Yanik Silver interview went really well and I asked a whole bunch of questions including:
– How do you get started building an online information marking empire?
– What are the best ways to use public domain works?
– Should you go wide over multiple niches or deep into just one?
– What's the quickest way to drive traffic?
– How to do you "banish the ordinary"?
And a few others… but anyway, best thing you can do is click here to download the interview now.
Your SEO Coach,
David Jenyns
Ps. Like what you heard? Follow me on twitter and I'll keep you up to date will more free interviews. And remember to share it with your friends and internet marketing newbies 🙂
PPs. Sorry for the delay in getting this one out… it got caught in the "Dave's about to go on a one month holiday" black hole.