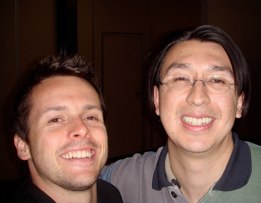 If you've been watching the internet marketing world for the past 6 months there's a very good chance you've heard of the SEO tool "Market Samurai"… It's pretty much come out of the gate as an indispensable addition to any SEOers toolkit.
What you probably don't know is who's the mastermind behind it?
Today, I'd like to put the spotlight on Eugene Ware, one of the key player behind Market Samurai. You'll rarely hear from Eugene since he's a "behind the scenes guy" but he's had more impact on the internet community than most people recognise.
Starting out in the early days with Ed Dale, Eugene was instrumental in the development of what has come to be known as the "UnderAchiever Method"… and that's just the tip of the iceberg.

Little did I know, Eugene and I, although we moved in different circles, were closer than we both realised. Eugene was there back in the day when I was getting my start with a small company called DayTrader HQ (but that's another story, for another day)…
In this interview we covered a whole range of SEO questions, including keyword research and I even asked Eugene why they called their product "market samurai".
So without further ado, it's my pleasure to introduce one of the sharpest guys in the world of SEO. Click here to download my 1 hour Skype call with Eugene and my Market Samurai Review. As always , it's free to download, no optin required.
Your SEO coach,
David Jenyns
PPs. If you'd like to keep up with who I'm interviewing please follow me on twitter and I'll send you more free interviews and reviews – like this market samurai review.

Click here to download Market Samurai.
PPs. If you'd like to see another Market Samurai Review… click here to see the video interview I did with Ben Stickland.