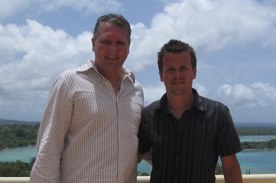 Is there a greater Depression on the horizon?
I know the rallies we have seen around the world would have us believe not… but what's really changed to the underlying economic conditions that caused the whole sub-prime collapse in the first place?
While on my recent vacation in Vanuatu, I asked my good friend, and demographics guru, Endre Dobozy what he thinks. I recorded the interview and have posted it for you below. You'll soon understand why I like Endre's economic forecasts… Endre calls it how he sees it.
Disclaimer: The information provided in these videos shouldn't be considered financial advice. Everyone's situation is different and you should consult your own advisors before making any investment decision.
Please also understand Endre and I are not trying to pick the "top of the market" – we're happy to continue to ride the trend till it reverses. The purpose of these videos is to give you a balanced forecast of the world economy for 2010. Watch the videos below (or click here to download the mp3 version) and I'd love to see your comments…
Part 1.

Part 2.
Part 3.
Part 4.
Part 5.

*Click here to download the complete mp3 version.
What's your view on Endre's economic forecast for 2010? Will we see a continued recession, or worse, a depression? What about the US, Australian, Japanese and emerging economies?
I want to hear from you… post your comments!
Your Trading Coach,
David Jenyns
Ps. Would you like to find out a little more about Endre's Underground Investment Secrets Newsletter? Click here to get your 1 month free subscription.