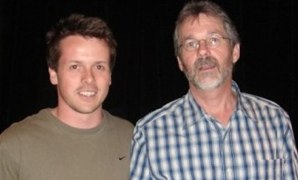 No matter what business you're building, the big money is made in marketing. It doesn't matter what product or service you're promoting, being the "doer" is never the best use of your time. Moreover to try and outsource marketing, in my experience, rarely ends well. No one will ever understand your business and your prospects better than you.
It's for this reason that the skill of copywriting and salesmanship must be learned by every business owner. Now I'm not talking about turning yourself into some slick used-car salesman, no one ever likes to feel as if they're being sold. That said, there is definitely an art and science to persuading potential clients.
Now when learning any skill I typically like to go to the source – which all leads me to John Carlton (www.john-carlton.com).
John has been behind the scenes of some of the greatest marketing campaigns in advertising history. But until recently, he purposely remained anonymous and chose to avoid the glare of the spotlight. What no one can dispute, is the fact that John Carlton is one of the world's highest-paid freelance copywriters. He earned his great reputation after 20 years in marketing, creating fortunes for other major corporations. He was the big-time freelancer that Los Angeles agencies snuck in the back door to do the genius stuff their staff writers couldn't pull off.
Understandably, I was super keen to line up an interview.
The difficult thing when organising some of these interviews is that you must first get past the gatekeepers. Now with John, I decided a new approach to get his attention. Recently John was in the middle of launching his "Simple Writing System" course and I thought what better way to get his attention than to promote the heck out of it.
Within the first couple of weeks of its launch, I boosted myself onto the leader board. I sold numerous copies of his course and even ended up winning his iPad competition. The result? Mission accomplished: I was able to line up an interview with the man himself.
Within a few minutes of us talking, it became obvious John was a master of his craft. I asked him a whole bunch of questions, including:
What does it take to become a good copywriter?
Where do most people go wrong when writing copy?
How do you use the AIDA formula?
To John's credit he answered these questions (and more) in great detail. Fortunately for you, I recorded the whole conversation. Click here to download the interview now… and I'd be keen to hear your thoughts (be sure to post them on the blog).
Your SEO coach,
David Jenyns
Ps. Like what you heard? Follow me on twitter and I'll keep you up to date will more free interviews.
PPs. If you haven't already, you really should check out John's Simple Writing Systems, it's probably the best copywriting course going around – click here.