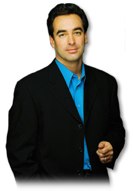 I started to watch Martin Wales after hearing him speak at Armand's Big Seminar back in 2005 but he's been marketing online since the dawn of time.
Martin has a long list of accomplishments including being a respected author, columnist, talk-radio and TV personality. He was also the former host of the Entrepreneur Magazine E-Biz Show and Customer Catcher Radio, in addition to Business Break television.
Recently, as part of theSEOmethod.com launch, I recorded a skype call with Martin to find out what he's been up to. Click here to download the call now.
Let me know what you think.
Your SEO coach,
David Jenyns
Ps. Follow me on twitter to keep up to do with all my free interviews.