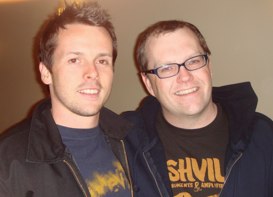 You may have read my bio, friended my Facebook and even followed my blog but there's still a lot you don't know about me.
The fact is, I don't speak at internet marketing events, I rarely let anyone interview me and heck I didn't even have an internet marketing product out till late last year… I've been busy doing my own thing. With that said, word is still getting out somehow.
I was quiet chuffed when Ed Dale (from the 30 Day Challenge fame) asked if he could interview me for his members. This is quiet an honour when you consider what Ed has accomplished over the years… how could I say no?
The interview went really well and I've already have some great feedback. In hindsight I might need to work on my "uums" and "you knows" but that's just because I'm used to being the guy asking the questions (look around this blog to see all the interviews I've been doing – Ken Evoy, Michel Fortin, Jonathan Mizel, Mike Koenigs and plenty more)!
Anyway, in this interview, for the first time, I talk about:
– How I made my first $ online
– My early failures online
– The whole MCG fiasco
– NLP voodoo & Richard Bandler
– My influences and mentors…
and much more.

But, enough of me talking the interview up, click here to download it and see for yourself.
Your SEO coach,
David Jenyns
Ps. I'll be looking to turn the tables on Ed and interview him soon. If you've got any questions you'd like me to ask him on your behalf, be sure to post them here.
PPs. Are you following me on twitter yet? If not, follow me now!