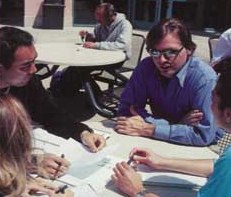 If you hadn't already pick up, I've been around the internet marketing space for many, many years now. I've seen a lot of changes… I've seen fads come and go… I've seen guru come and go.
One marketer I used to keep an eye on was a guy called Declan Dunn. I remember one of the last times I watch him was at the x10 Seminar in Queensland, Australia (5 years ago). In this presentation Declan give some insights that helped shape the way I do business online today.
Sadly, after that presentation, it almost felt like Declan disappeared. I thought it might be fun, since I've been recording some calls with my IM buddies, I'd find out what he's been up to. Declan was only too happy to offer his time and, as it turns out, he didn't disappear, he's just been busy working on 'the next big thing'.
Declan's been honing his skills with new media. In fact, over the course an hour skype call, I was reminded why he was in such high demand on the speaking circuit. Declan is a trend spotter…
He has a new book coming out called "The New Media Game" (scheduled for release early next year) but you don't have to wait that long to find out what he's been up to – I recorded our recent call for you 🙂
Click there to download the call now.
And be sure to post your comments below.
Your SEO coach,
David Jenyns
Ps. Have you followed me on twitter? I'll keep you up to date with all my free interviews.